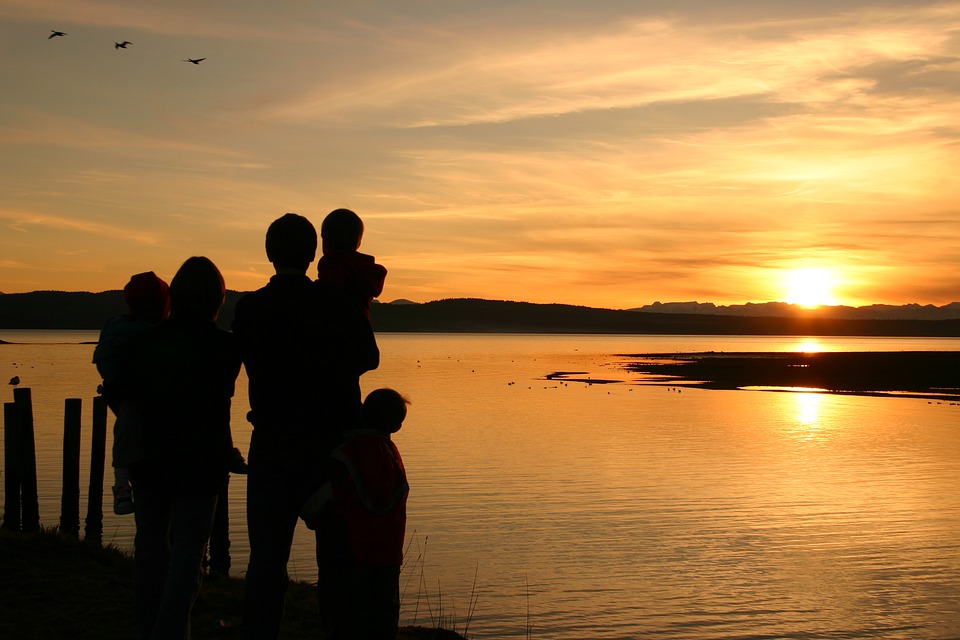 A Case for Family Worship - Part 3
"Would we see revival among our children? Let us remember that God often uses the restoration of family worship to usher in church revival."[1] Dr. Joel R. Beeke
This is final essay of a three part series on the importance of family worship. In part one and two, we reviewed the history and practice of family worship. In this post, we will explore the question: Why is family worship important?
Anytime someone makes a suggestion about how we should raise our children and lead our families, it is natural to feel defensive. In fact, you might might want to retort, "We are good parents! We take our children to church every Sunday. Isn't that enough?"
The short answer, no. The long answer, an emphatic no. The importance of family worship rests upon these three areas of impact: (1) It is a blessing to the family itself, (2) It is a blessing to the church, and (3) It is a blessing to society.
A Blessing to the Family
This might be self-explanatory, but family worship is a unique blessing to the family because God is the object of its study and praise. When we gather as a family to worship God, something special happens in each person's heart. The family senses that it is (a) glorifying God, fulfilling their purpose; (b) it wrings out sin, thus aiding in their sanctification; and (c) it draws its members closer in relationship by tethering the family to the rock that is Christ.
To God's Glory
The Westminster Shorter Catechism states it best: "What is the chief end of man? Man's chief end is to glorify God and to enjoy him forever." What better exercise than family worship to implement the eternal benefits of glory?
When we gather as a family to study and praise God, we fulfill our purpose as creatures bearing the image of our Creator. We impress upon the hearts of our families the conviction that this God is real. In this, we glorify God and hold fast to the truth of Scripture, mirroring the words in Psalm 119:16: "I will delight in your statutes; I will not forget your word."
One of the most evident byproducts of regular worship is that the truths of God's Word will begin to be lived out. Oh what joy when your five year old asks "Why do you love God?" or when he aches to have his own copy of God's Word! These are small signs that something is permeating their hearts and minds. These are tiny fragments of life that contribute to the joy that a family has because of their worship to the Divine Creator. This is not only of blessing to the children, but also to the parents.
Twofold Sanctification
Family worship wrings out sin in our lives. When we gather daily before the Lord, there can be no division between family members, for how can we accept the grace and mercy from God, yet withhold the same from our spouse and children? It brings a sense of urgency for genuine reconciliation. What better model of the Gospel than when I sin towards my wife, I would seek to confess it to her and seek her forgiveness in the presence of my children? Letting them see that daddy is a sinner in need of grace as much as they are for sinning against God serves as an illustration of the humility that it requires to lead with godly authority.
A consistent model of the Gospel and its daily preaching will taste much sweeter than the purest honey when we have this level of transparency. This is a means of grace that will draw humble submission from us and put on display to our families that we worship God in spirit and in truth. My life is sanctified and those of my wife and children as well, for daily confession and repentance are a mark of those who produce fruit.
Tethered to the Rock
What shall we say then of unity? How glorious it is when trials come and we remain firm in our convictions to the Lord that we would say like Job, "Though He slay me, I will hope in Him" (Job 13:15). In an age where prosperity, health, and wealth are marketed as signs of favor with God, we as Christians of the reformed tradition reject this notion. Not that any form of wellness or success is evil, but rather it is the pursuit of such things as your source of joy and purpose which is evil.
When challenges and trials come, we hope to settle and rest upon the daily worship of God as our foundation for living and loving one another through those times instead of falling off to the wayside. These habits of seeking and granting forgiveness, being truthful in our dealings, and being graceful with one another slowly tether us in such a manner that sharing a struggle or doubt within the family becomes second nature. When seasons of life come, such as children thinking about a potential mate, how beautiful that they would seek the counsel of their father and mother without a doubt knowing that they can trust them. These are priceless investments that yield returns for a lifetime.
A Blessing to the Church
When the family grows, the church grows. While many books are written about church growth, about how we engage our lost neighbors and bring them into the fold, the multiplication of a family of disciples in and of itself is a built-in mechanism by which we fulfill the Great Commission. We dare not say that as believers we bring children who are automatically saved. Salvation only comes by grace through faith in Christ; however, the Bible is clear we are never to sit idly by in our evangelistic efforts, especially when it comes to our children.
We are commanded in Scripture to "teach [our children] diligently." It is God's promise that He will be a God to us and our children. Families that engage in daily study and worship of God impress upon their members a security in God's Holy Word. Domestic piety, as it were, aids in producing men and women who understand the worship of God to be a necessary part of the Christian life. How much more important can it be that these children who grow up in daily family worship see the gathering of God's people for Lord's Day worship as the pinnacle of their week?
These are the numbers we should seek first and foremost. If we don't prioritize our evangelistic efforts at home how dare we try to evangelize our neighbor when those whom God entrusted to us are left to themselves? We start at home, move on to the church, and then on to the rest of the world.
A Blessing to Society
It has often been said, "As goes the family, so goes the church. As goes the church, so goes the nation."
I would agree, especially as we survey the landscape of society today compared to that of the past. Though we do not advocate for the "good old days" mentality, being aware that God has placed us in this age for His glory and divine purpose, we use the past as an example for those areas we see lacking today. As we look to the past, we can clearly observe that when families devote themselves to the Word of God, and even more particularly to family worship, we see positive effects on society.
Societies whose citizens are reared in godly instruction generally tend to flourish. Furthermore, when the Gospel is at the center of the teaching and living, those it produces are committed to evangelism and reform.
Homes that are committed to the daily worship of God aid in the flourishing of a society. Consciences that are bound by the Word of God produce those things which are decent, pure, prosperous, and overall virtuous. On the other end, when we take a look at our society today, it glorifies indecency, death, slothfulness, and overall sinfulness. Do we long to deal with people who are good employees, trustworthy merchants, and/or civic officers who would seek the benefit of the community rather than a quick dollar? Yes, of course we would. To this end, it is imperative that reformation begins in our homes.
Conclusion
Family worship is to be the backbone upon which Christians hang their lives for daily faith and practice. As we reflect on the comments made throughout this series of essays, I would exhort you to not delay in your practice of family worship. It is never too late. Repent, rejoice and reflect. Repent before God and your family for lacking in this area and reconcile with those in your family so no charge may be brought against you. Rejoice in the grace and mercy God has bestowed upon your soul. Reflect on the multi-generational legacy that this will be for you and your family.
I end with this excerpt from John G. Paton, the famous missionary to the cannibal tribes, on his departure from his home to the mission field. The echoes of family discipleship and evangelism are quite clear here:
"My dear father walked with me the first six miles of the way. His counsel and tears and heavenly conversation on that parting journey are fresh in my heart as if it had been but yesterday; and tears are on my cheeks as freely now as then, whenever memory steals me away to the scene. His tears fell fast when our eyes met each other in looks for which all speech was vain! He grasped my hand firmly for a minute in silence, and then solemnly said: 'God bless you, my son! Your father's God prosper you, and keep you from all evil!' Unable to say more, his lips kept moving in silent prayer; in tears we embraced, and parted. I ran off as fast as I could; and, when about to turn a corner in the road where he would lose sight of me, I looked back and saw him still standing with head uncovered where I had left him gazing after me. Waving my hat in adieu, I was round the corner and out of sight in an instant. But my heart was too full and sore to carry me further, so I darted into the side of the road and wept for a time. Rising up cautiously, I climbed the dyke to see if he yet stood where I had left him; and just at that moment I caught a glimpse of him climbing the dyke and looking out for me! He did not see me, and after he had gazed eagerly in my direction for a while he got down, set his face towards home, and began to return, his head still uncovered, and his heart, I felt sure, still rising in prayers for me. I watched through blinding tears, till his form faded from my gaze; and then, hastening on my way, vowed deeply and oft, by the help of God, to live and act so as never to grieve or dishonour such a father and mother as He had given me. The appearance of my father when we parted has often through life risen vividly before my mind, and does so now as if it had been but an hour ago. In my earlier years particularly, when exposed to many temptations, his parting form rose before me as that of a guardian Angel. It is no pharisaism, but deep gratitude, which makes me here testify that the memory of that scene not only helped to keep me pure from the prevailing sins, but also stimulated me in all my studies, that I might not fall short of his hopes, and in all my Christian duties, that I might faithfully follow his shining example."[2]
Footnotes
[

1

] Beeke, Joel R. Family Worship (Grand Rapids, MI: Reformation Heritage Books, p2, 2009)
[2] Paton, John G. Missionary Patriarch: The True Story of John G. Paton (Vision Forum, 2001)