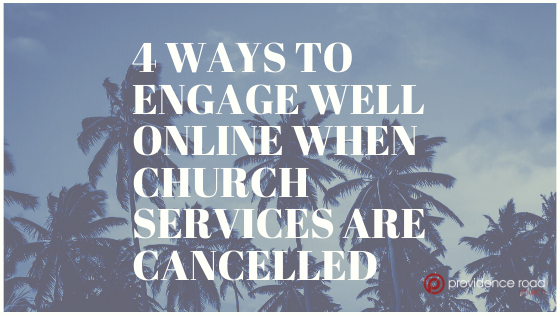 4 WAYS TO ENGAGE WELL ONLINE WHEN CHURCH SERVICES ARE CANCELLED
The corona virus has proved itself to be disruptive, but not just disruptive, like a child making a fuss in class, disruptive like something most alive have never experienced before. Our collective memory has to draw back to WWII or the Spanish Flu of 1918 to look for similar moments in society.
We are in new territory.
Providence Road Church turns 10 this year, that's not old in the scheme of things, yet we've never cancelled a service till now. Like every other church, we've never not met, till this Sunday. This Sunday we will not meet. It's been the directive of the CDC that groups of 50 or more shouldn't meet. Similarly, President Trump drew that number down to 10. The logic is obvious, 1000 people meeting is more dangerous than 500, and 500 more dangerous than 100, and 100 more dangerous than 10.
The spirit of what's being asked is that we as a church limit our meeting together in order to curb the spread of this virus. As a church we agree to the wisdom of this guidance. In the spirit of Romans 13, that the Lord has established governments for our good and wellbeing, and in the spirit of love for neighbor, suspending our gathering for a time is prudent.
But, what will we do? I think most have assumed that we will continue our services online, and we will, in an amended way.
On Sunday we will have a facebook live gathering that we're wishing all to attend. But, I wanted to think well about how we gather online. Are there things we can do to help facilitate a better experience?
So, with that in mind, here are four ways to engage well online this Sunday.
Mourn this situation.
It is healthy in this moment to remember that gathering online is not a church service. It's less than a church service. The New Testament describes the church as a gathered assembly of believers. If we're not gathering we're not, in any real way, meeting as a church.
Within the Lord's purposes he's allowed this COVID-19 moment and it's important that we do not miss it's lessons. We should mourn our lack of gathering. It should produce in us some level of angst that we're not gathering.
Mark Dever, a pastor from the DC area, was asked about how Christians should respond to this lack of meeting, he said Christians should "experience the thirst and then pray that God hones this longing."
We should.
Perhaps in a few weeks, or a month, or sometime longer we'll understand the words of Psalm 122 differently, "I was glad when they said to me, 'Let us go to the house of the Lord!'"
Prepare your home.
I found myself home this past Sunday — I was on a self-quarantine because of travel overseas. I wasn't at church, yet the church was gathering. I prepared the TV, I downloaded the app and I streamed the service. But, my home was busy. There were things happening in the kitchen, there were kids running from room to room, and there were things left undone.
As we gather online prepare your home in advance. Have the coffee poured beforehand, have your seat on your couch prepped early, finish your task in the kitchen when the time comes (or put it off till after), and then sit with your family and engage.
The home is a master of distractions, don't let your home in this moment disengage you from engaging online.
Be thankful.
The last time in America when services were cancelled like this it was 1918 and the Spanish Flu. The local health board of commissioners advised the local community to shut down and all church services were cancelled. The churches responded by meeting outside. This of course was missing the point of the original policy. Soon, outdoor meetings were cancelled as well. The church didn't meet for over a month.
In 2020 things are different. We have the means to communicate and gather in a way the church in 1918 did not have.
Let's be thankful to the Lord for the ability to gather through Facebook.
Sing and pray with us.
The very nature of having an online meeting feels disengaging — and for good reason, it's not the gathered church the same way gathering together is. But, just because we cannot meet together doesn't mean we shouldn't sing and pray together.
In these moments sing the way you would if at church, with your family. And engage in the Pastoral prayer the same way you would when we're gathered. This is a great opportunity for you to sing with your family, which you might not be in the habit of doing. And, it's a way to be united in "one spirit" as we long to gather again soon.